Our people
At SoftwareOne, we seek to maintain a unique culture based on seven core values that drive everything we do.
Our seven core values
Global and diverse workforce
In 2022, SoftwareOne grew to 9,060 employees worldwide. We pride ourselves on our diversity, representing people of 80+ different nationalities, 30+ languages and a good representation of religious groups. By gender, the distribution is 64% male, 34% female and 2% trans or other, and the average age is 37.
Our diverse workforce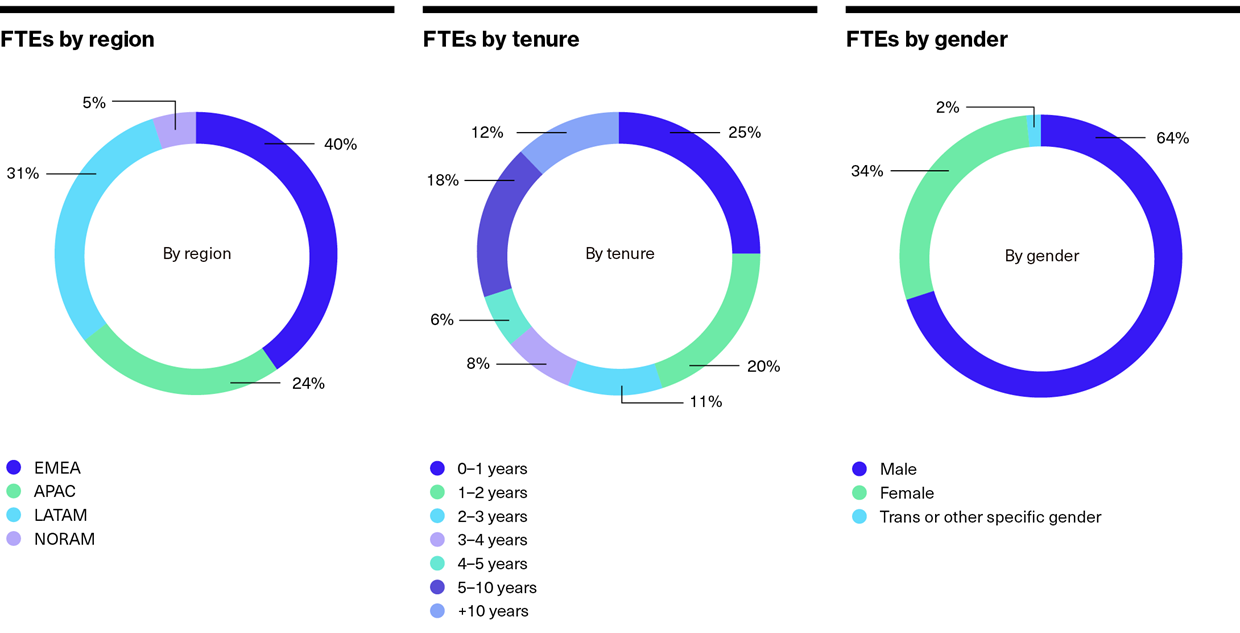 As we continue to grow, attracting the best talent, empowering people to innovate and reinforcing our culture play an important role in driving performance and maintaining a highly engaged workforce.
FTEs by region
| | | | | |
| --- | --- | --- | --- | --- |
| As at 31 December | 2019 | 2020 | 2021 | 2022 |
|   |   |   |   |   |
| Geographic region |   |   |   |   |
| EMEA | 2,793 | 3,155 | 3,632 | 3,666 |
| APAC | 1,487 | 1,753 | 2,012 | 2,186 |
| LATAM | 756 | 853 | 2,579 | 2,765 |
| NORAM | 406 | 457 | 488 | 443 |
| Total | 5,442 | 6,219 | 8,710 | 9,060 |
Attracting talent
Attracting talent is critical to ensuring the long-term success of SoftwareOne. In 2022, we welcomed more than 300 net new hires to strengthen key areas of our business.
To ensure efficiency, high-class candidate experiences and quality recruitment, several enhancements were made to our Talent Acquisition team's IT infrastructure and processes. We implemented a tool to create a pool of 150,000 engaged candidates to potentially hire for the right opportunity. Data analytics were also improved to deliver transparency on hiring quality, efficiency, and personnel costs.
Other areas of focus were Employer Branding, Diversity & Inclusion and developing our partnership with PowerToFly, a leading platform that connects underrepresented talent to roles in the technology sector.
Training and developing leaders
At SoftwareOne, we believe in unlocking the potential of every employee. This requires transformational and inspiring leaders who empower their teams. In 2022, we focused on professionalising our leadership development programmes and launched several pilots, ranging from 'Emerging Leaders' to 'Experienced Leaders'. A highlight was the 'Coaching for Transformation programme', where around 200 of our leaders embarked on a three-month highly participative training based on the research of a Harvard Business School professor.
In addition, to strengthen technical, professional and leadership skills at all levels globally, we crafted a digital learning platform available to all employees to go live in early 2023, giving them access to content on-demand.
Rewarding strong performance
We believe in rewarding great performance and going 'above and beyond' to serve our clients. Our President's Club is an employee recognition event to celebrate outstanding contributions. After two years of being unable to host the event physically due to Covid-19 restrictions, we were excited to celebrate three-events-in-one in Berlin in late 2022.
Tracking employee satisfaction
We know that happy people perform better. To gauge employee satisfaction, SoftwareOne regularly conducts employee engagement surveys designed to measure and improve engagement, satisfaction, and performance. The feedback and ideas received are a fundamental part of SoftwareOne's culture and are essential in shaping the direction of our company.
In 2022, a short pulse survey was carried out to check on the progress of the action plan based on the large engagement survey undertaken in September 2021.