Overview
SoftwareOne is a leading global software and cloud solutions provider that is redefining how organisations build, buy, and manage everything in the cloud. We develop and deliver the technology solutions that modernise our clients' applications and software in the cloud, while enabling these purchases and optimising their investments over time.
With more than 9,000 employees across 90 countries, SoftwareOne has one of the broadest footprints in the industry. Our operating model is built to leverage our global scale with centrally-delivered 24/7 customer service, while maintaining strong client relationships as a result of our local presence. We serve approximately 65,000 clients worldwide1), including large enterprises, small and medium-sized enterprises (SMEs) and public sector organisations, across a range of end-markets.
1) Based on unique customer billing codes
Diversified across regions and clients
1) Based on customer FTE information sourced from Dun & Bradstreets D-U-N-S database; Customer size determined at the group (not subsidiary) level
2) Defined as having more than 3,000 FTEs
We offer our clients an end-to-end value proposition to help them navigate complex options and implement the best IT solutions for their needs. Taking a vendor-agnostic approach, we support clients with defining their technology strategy, followed by either cloud-native application development (build) or software sourcing (buy). We also help clients efficiently migrate applications and critical workloads to their chosen cloud destination. Finally, we manage and optimise their IT estate to ensure complete transparency, manage risk and control costs.
In this way, we empower our clients to defend their business models, transform and position themselves as leaders through enhanced customer and employee experiences, improved agility, and increased resilience.
Unique end-to-end client value proposition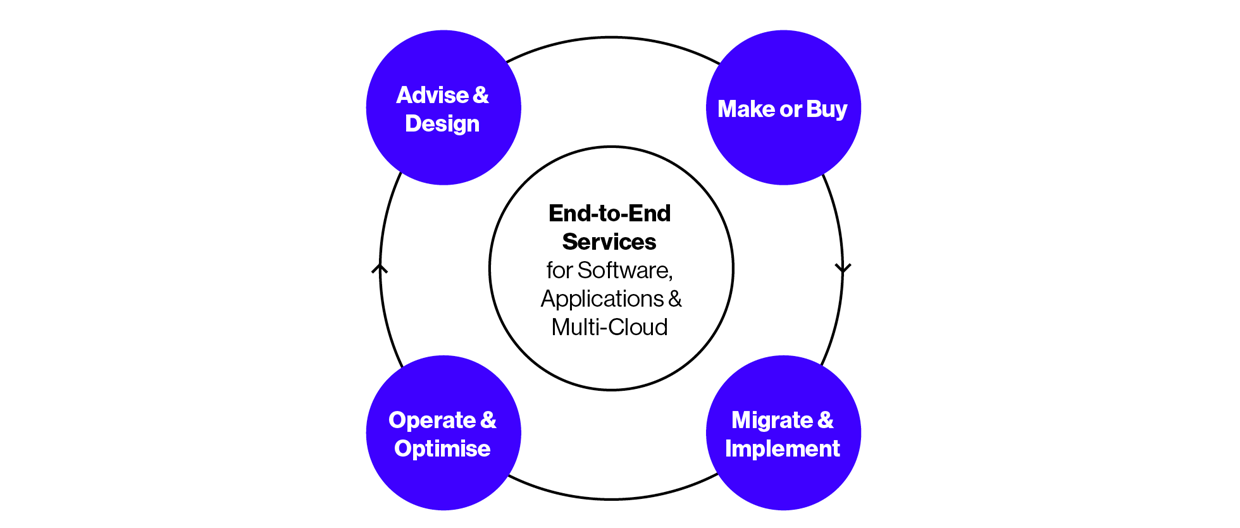 Our integrated suite of solutions is organised into two highly synergistic business lines: Software & Cloud Marketplace and Software & Cloud Services, which accounted for 54% and 46% of revenue, respectively, in 2022.
Two synergistic business lines
Software & Cloud Marketplace: we offer fast and expertise-led access to a comprehensive software and cloud catalogue, drawing on relationships with more than 7,500 vendors. Our catalogue includes best-performing hyperscalers such as Microsoft Azure, Amazon Web Services (AWS) and Google Cloud Platform (GCP). We also offer leading software brands such as Adobe, Citrix, Oracle, Red Hat, VMware, Sophos, Splunk and Veeam.
Our long-standing relationship with Microsoft dates back 30 years. We estimate that today, we are Microsoft's largest channel partner and Azure's largest partner globally.
Software & Cloud Services: offers end-to-end cloud-native Services and digital solutions including cloud infrastructure services, cloud-native application development and application modernisation, SAP services, digital workplace, IT asset management, and software sourcing services. FinOps (cloud financial management), where we have a seat on the governing board of the FinOps Foundation, and security are fully embedded in everything we do.
Cloud-native capabilities covering entire digital transformation journeys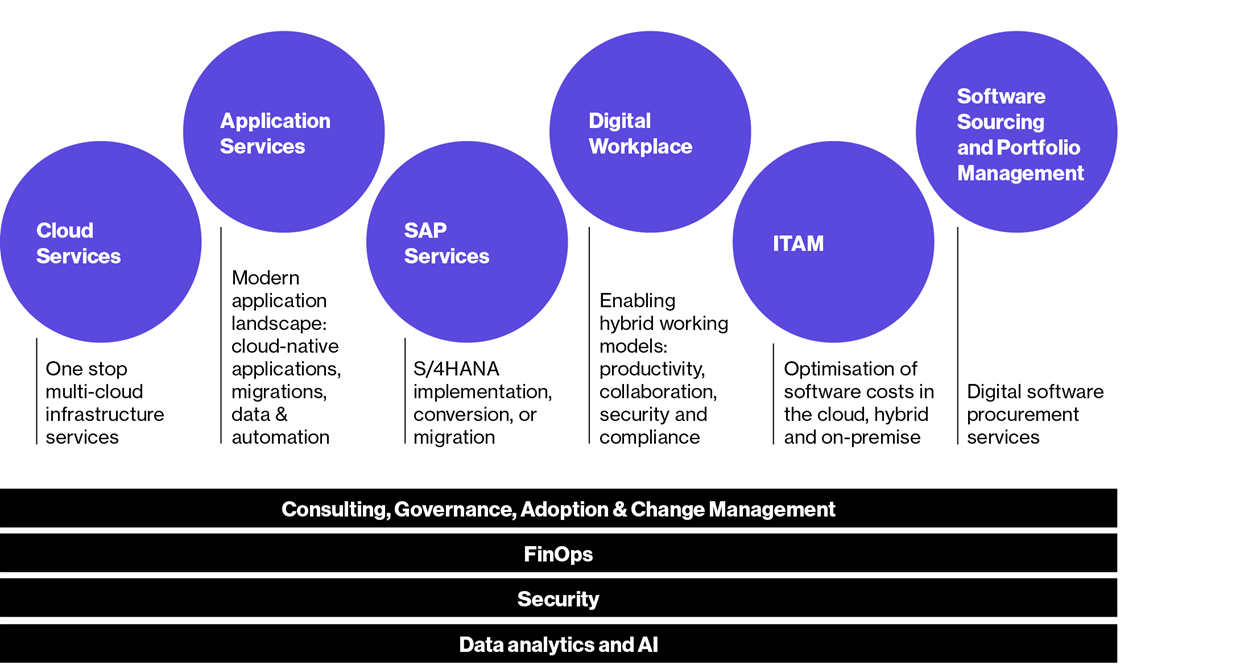 As a certified FinOps Service Provider, SoftwareOne currently has a growing team of approximately 200 FinOps Certified Practitioners, who work agnostically with a range of FinOps-certified platforms, helping clients achieve the transparency and governance needed to tackle rising variable and opaque cloud spend.
PyraCloud – SoftwareOne's digital hub
SoftwareOne PyraCloud is a proprietary digital hub that allows clients to efficiently transact, manage and optimise their entire spend using a data-driven, actionable platform. The PyraCloud cloud management platform is becoming increasingly relevant as clients seek to address the complexity arising from multi-cloud environments and optimise spend across public clouds. PyraCloud is powered by insights or data derived from past purchasing behaviour, and peer benchmarking to support self-service and intelligent decision-making by clients.
As the reselling industry evolves and clients look for a more digital purchasing experience, we continue to develop Goatpath by SoftwareOne, our software and cloud marketplace. The innovations developed on the Goatpath platform seek to radically change the way clients can buy, sell, and manage their software, cloud and services.